Took place from 8.00pm to 10.00pm. After Party 10.00pm - 2.00am DJs, video screenings, bar.

Think Curators Think is an on-going project, conceived by Sam Fisher, and initiated at Goldsmiths College in 2004 by Peter Lewis with a group of Fine Art undergraduate students. The project invites artists to volunteer to work collaboratively with individual students and risk a certain loss of control.
Press Release
THINK CURATORS THINK:
with Ben Fitton and Connor Linskey


The second in the projected series of events and exhibitions to be held at Redux in the forthcoming year presents work by the artist Ben Fitton in collaboration with Goldsmiths student Connor Linskey, and is organized by Peter Lewis and Makiko Nagaya.

The idea of a collaboration began with a discussion around the language [1] of protest placards that Fitton had previously exhibited as messages on an LCD screen. Fitton simultaneously sent the message by e-mail to Connor Linskey studying at Goldsmiths College.

As an artist, Fitton was interested in sliding one purpose and context into another's, imagining the meaning of the message re-activated, or exploded, by so doing. The protest fails abjectedly as it performs a prescribed 'political' role. [2] Linskey would respond to the uncertainty of its performance.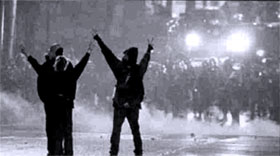 Seeing a family on the tube coming home from a demonstration with two or three of these placards propped upside down on the train floor, handles in the air, was a sign of their being both ideologically used-up and dormant, always ready for an imaginary yet tactical use. Placards have been mass-produced to be handed out to demonstrators, in a way that signaled them as ideal vehicles for both dissidence, and its disappearance, so that they do not really look 'used'. The placards appear strategically as 'clean' as their mass-production fully declares.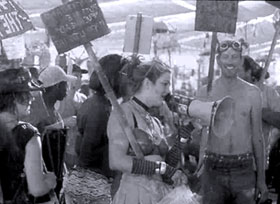 Were the family saving them for another demonstration (in which case they may have already sensed the secret futility of the one they had just been on), or were the placards now just souvenirs, that would just kick around the house for a while, or maybe get stuffed in a cupboard for a couple of years, then eventually be re-animated as a length of wood, as a weapon or chair-leg, whatever.

To imagine endlessly futile scenarios of use or to think through the possibilities demands ultimately that we recognize 'politics' as the best souvenir of all protest marches; the thing not to achieve, prevent, or overthrow, but to consider the object of protest itself, as nothing of importance to be looked at or read, but something visually absorbed into a state of convalescence. Everyone is ready to protest, yet all are tired of the revolution and of any suggestion of violent revolutionary consequences. "Not in my name!" starts to read more like "let's keep things quiet, please, like civilised folk!"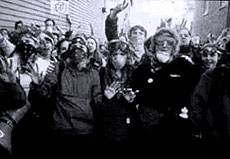 Whilst Linskey thinks through the time and value of the universal use of placards, or specifying particular examples of their anti-aesthetic, Fitton is re-presenting the LCD screen to spell out the text he originally proposed both to Floating Ip [3] and to Linskey.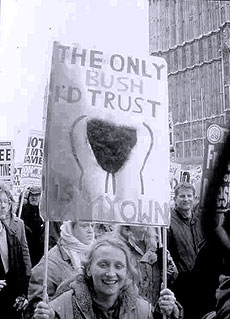 Both Fitton and Linskey agree to take on thinking positions about how we could imagine things to look if they are not solely designed to making things clear, purposeful and hard, like the protest placard, which fails tactically to do its job, yet succeeds as the re-animated object, as Jean Baudrillard writes, of our fascination in objects in general; that they are illusions of themselves, and have always disappeared, like a project for a revolution that will always be about to occur.
1. Lacan was right. Language does not convey meaning, but stands in its place.

2. "Politicians - power itself - are abject because they merely embody the profound contempt people have for their own lives. Their abjection reflects the abjection of the governed, who thereby find some way of ridding themselves of their own sense of abjection. One should be grateful to the politicians for accepting the abjectness of power, and ridding others of its burden. This inevitably kills them but they get their revenge by passing on to others the corpse of power. This ancient hereditary function has never been repudiated." Page 15, Cool Memories, Jean Baudrillard, Verso, 1990.

3. The work was exhibited in "Do Something" at Floating Ip during June - August 2004, organised by Dave Beech, commissioning artists' proposals for an exhibition, that comprised the form and content of the exhibition itself.

[ Photos ] [ Events ]