Nooshin Farhid and Arjen de Leeuw
- Video installations
- Use this kind of Sky

Curated by Paul Eachus and Nooshin Farhid.

The project Use this kind of Sky opens at
Keith Talent Gallery, 2 - 4 Tudor Road, London E9 7SN
6.30pm - 9.30pm, 10th November 2005

info@use-this-kind-of-sky.com

Press Release

Use this kind of Sky is an exhibition and project which brings together a number of international artists whose practices engage with the social climate and the events and concerns of the present, to explore the potential of contemporary art as an effective mediator of change. At a time when the media control and dissemination of information appears total in its sophistication, artists' works and non-artist consumers of works alike [kinds of art-spectator 'users'] are faced with dismissal, in the generic dislike of art, which is regarded as, if not at base entertaining, a decorative irrelevance, " ...footnote to forces more powerful than its capacity to confront." [Jean Fisher]

One of the distinguishing features of Use this kind of Sky is the use of what might be called a 'democratising' principle embedded in viewer friendly strategies of representation; the humorous, comic, ironic and absurd to be found endemic in the dramatology of human error and failure.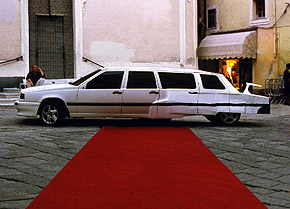 [ Events ]



However these affects do not operate merely as wish-fulfilment, 'dumbing down', but herald [universally] the work of criticism as the oblique, continuous work of reformation of the subject. Undercover of the casual remark lies the devastating comment; the witty aside and the flippant remark act as covert to an agonistic realm, one where we would be able to identify, not without anticipating the difficulty and struggle for freedom, the 'imperial' firmly lodged within [for instance, as the simplification of states to totals:
democracy, user-friendliness, transformation of culture to market].

Each artist has been invited to make work specifically for a project which integrates galleries [Keith Talent Gallery] as outside, within their broader location over a set duration, in and around East London, at specifically, ®edux, SPACE at the Triangle and on Resonance Radio, 104.4 F.M.

A project through which the processes of variegated kinds of installed works brings individual ones and their subjectivities into the active form of a surface, the intercedence answering the potential for something at odds and unforeseen.

Paul Eachus and Nooshin Farhid, as the curators are also artists currently living and working from London. 'Wait for Me' was held at the London Institute Gallery at Millbank in 2002.

... continues on page 2